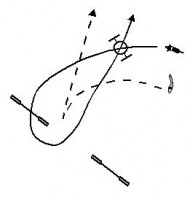 The Ketschker is a combination maneuver where the handler cues a front cross at an obstacle, and then as the dog commits to the obstacle, executes a blind cross. It is primarily used to get a tight wrap around a jump.
Demonstrated by Daisy Peel.
Our Yearly VIP Program is OPEN for Registration!
Join today - registration closes tonight!
Here at the Bad Dog Agility Academy, we have built a monthly subscription program to help YOU get the training, guidance, and inspiration you need to achieve your goals in dog agility.
I especially like the training exercises and your discussion of lines, deceleration and cueing. I used much of that info in the classes that I teach as well as improving my own handling. Your classes are just the right mixture of training the dog and training the handler for me. Linda S., VIP Member
Five Stars...2 Thumbs up. Whatever rating scale you choose, Bad Dog Agility is the best you can ask for at very low cost. Sarah and Esteban Fernandezlopez give you everything you need and those other things you didn"t know you were missing. I joined their VIP program and simply love it. It provides exceptional breadth and depth for the agility enthusiast. In my opinion Sarah and Esteban offer the best array of programs I have ever encountered. Chris C., VIP Member